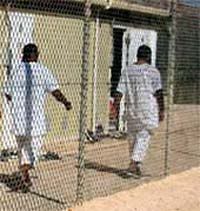 The first case has been heard under McCain's infamous
Detainee Treatment Act
:
"U.S. District Judge Gladys Kessler is considering whether to prohibit the forced-feeding practice in the case of Mohammed Bawazir, who has been imprisoned at Guantanamo Bay since the spring of 2002."
"After the hearing, Bawazir's lawyer, John Chandler, said, "We believe the use of restraining chairs which are only supposed to be used for detainees who are violent and dangerous to others or actively dangerous to themselves is a violation of the McCain Amendment."
Named after Sen. John McCain, R-Ariz., the amendment is a portion of the new Detainee Treatment Act that outlaws torture." (
source
)
What's the debate? Stop the force feeding and let the idiots die --and I guess then it will be liberal-mandated, court-sanctioned death.
In the picture it looks to me like the prisoners get to walk around unshackled... gone are the orange jumpsuits and they have been replaced with crisp white man-dresses and flip flops (Most assuredly much nicer and cleaner than anything they wore in their homeland). The troops they were trying to kill would have only received a flag draped box...