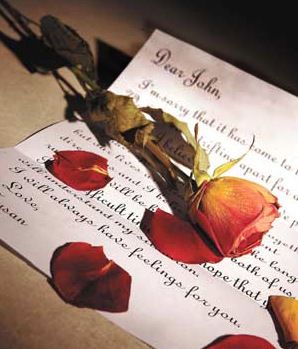 I have tried to get a few of the Veterans around here to post about the high incidence of "Dear John" letters during active duty... maybe it hits too close to home, or conjures too much disgust to write about.
This is something that most civilians never think about -and maybe don't understand how often it happens and what profound impact it has on the letter recipient. AG has told me that the awful phenomenon is not exclusive to the boys, and the girls get their share of "Dear Jane" letters also.
I have also heard many stories of the widespread adultery on military bases while the husbands are away. I really don't understand this. Don't these women understand the importance of the "home" connection their men need while they are away? How can they be so selfish? Can't they just wait until he comes home? Is it selfish guilt guised as honesty?
Jarhead
touched on this subject, but relationships seem to be one of the casualties of war that is never really discussed. Is leaving a girlfriend/boyfriend behind another added stress to deployment? Are there really crowded walls of shame?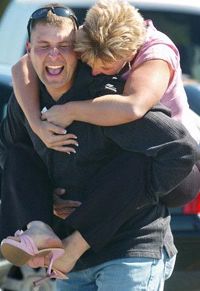 After hearing so many depressing tales of relationships ending via an APO address it was great to hear about
this couple
:
"When Marine Staff Sgt. Kyle Marigoni returned from deployment Sunday morning, clearly, something was missing. His wife: 103 pounds of her and a handful of dress sizes. His reaction when he saw Alisha Marigoni for the first time in seven months? "Speechless," he said. "My jaw hit the ground."
Pixie blonde Alisha, 28, spent much of the last seven months eating "right," running on a treadmill in the garage, and weighing in to track her progress at a weight loss center in Oceanside.
The result? A perfect welcome home and birthday present combined; the eternally smiling Marine turned 29 on Saturday. "He just has to unwrap it," Alisha joked, with her husband's arms wrapped tightly around her waist, their 3-year-old daughter Leigha trotting around them." (
source
)
She went from a size 18 to a size 8 while he was gone --what a great welcome home gift and a great story! (H/t: Liz)