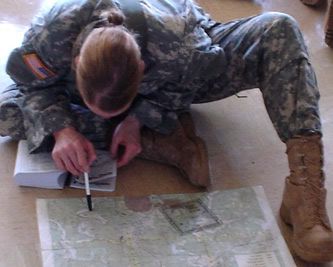 God works in mysterious ways --and maybe it can be through the blogs...
As many of you know,
Desultory Butterfly
has given up civilian life and is currently under the tutelage of United States Army drill Sergeants at not-so-scenic boot camp. She is doing well (scores), but is currently quite ill. Due to the high instance of malingering, illness may not be attended to with the zeal they would in the "real world"...so she will most likely just have to suffer through it.
Anyway, Desult's twin would love to be able to see her sister graduate. You can imagine that this time has been hard on both of them --they are very close and have taken the lack of communication very hard. The tickets are
REALLY
expensive and with all of life's other expenses, it may not be possible for her sister to get to Desult's graduation without help.... your help?
I am asking all of you --can you help two fellow Bloggers in need? If anyone has excess Frequent Flyer miles or flight vouchers that you can afford to part with...can you please email me? Once again, the ticket needed is quite pricey. Can we thank Desult for her willing sacrifice and reunite twins on that special day of accomplishment!?
E-MAIL ME
Thanks!