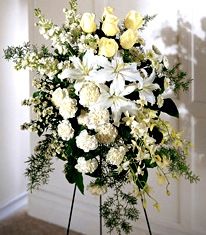 I guess I knew it was coming... I've had so much good news lately not to have some bad stuff looming on the horizon.
My sister being pregnant, my brother making the Fire Department and my other brother getting offered
Fellowship
PhD offers from both Rutgers and Boston College...all good news.
But, now comes the bad...
Tomorrow Ninja has to have a root canal and a surface filling. With no sedation. Only Novocain. Too many litigious people in Philly means no more dental sedation for kids. So my little man has to pay the price because people would rather sue than get a friggin' job.
And worse --This morning my father and I will be going to the funeral of my first cousin who died in her sleep Sunday night. She was 38. Only four years older than me. They don't know the cause of death. She did have diabetes and asthma, but so do many people and they don't die in their sleep...
You know what's eerie? The last time I saw my cousin was at my Grandmother's funeral and she was saying how sad it was that we all only saw each other at funerals.