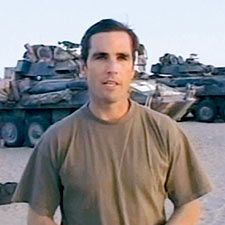 Yesterday, D-NC linked
this Kos-contributor post
about Bob Woodruff. Apparently the libs are saying that Bob Woodruff was working for the U.S. government...? The author of the linked post says:
"As some of you know, I recently returned from Iraq. This Bob Woodruff story has been bothering me. Something about it stinks.
I have a theory about what likely happened. I think it's worse than we know.
I suspect that Bob Woodruff was set up by insurgent spies working within the Iraqi Army, and that the US Military was unable to protect him."
(The rest of the post ties in Woodruff's Iraq trip and the SOTU...)
Is it the military's job to protect journalists? Is that fair to even say? If someone decides, of their own free will (and desire for a Pulitzer), to go to a war zone and stand up inside and unarmored humvee with the Iraqis.... How would that require protection from our troops. As if they don't have enough to worry about than risking their lives for journalists.
I was intending to post on this story anyway (for those that are unaware, ABC's Bob Woodruff and his camera man were
seriously injured by an IED
while riding with members of the Iraqi Army) because I was disgusted when I heard the comment from ABC's News President. David Westin, upon first discussing the news about Woodruff said, "This makes it real".
THIS makes it real?
So when ABC read out all the names of the soldiers, airmen, sailors and marines that have lost their lives in Iraq --that didn't make it real. Isn't that almost admitting that the reading of the names was purely to stir anti-war/anti-Bush sentiment?
Looks like the troops on the ground beat me to the sentiment:
"Why do you think this is such a huge story?' wrote an officer stationed in Baqubah, Iraq, Monday via e-mail. 'It`s a bit stunning to us over here how absolutely dominant the story is on every network and front page. I mean, you`d think we lost the entire 1st Marine Division or something.
'There`s a lot of grumbling from guys at all ranks about it. That`s a really impolite and impolitic thing to say ... but it`s what you would hear over here.'
At least 2,242 troops have died in Iraq since the wars start, 1,753 of them killed in action. Another 16,000 have been injured, half of them seriously enough to require evacuation from the battlefield. According to the Pentagon, 60 percent of the deaths are the result of IEDs. IEDs have injured more than 9,200 troops, nine times more than gunshots.
'The point that is currently being made (is that) that press folks are more important than mere military folks,' a senior military officer told UPI Tuesday." (
source
)
Rush found and reported on two articles (in the Washington Post & Reuters) that truly highlight the nature of the beast (the beast, as usual, is the press). The networks can read all the names and cover the rallies on the day of the 2,000th death in Iraq --but when statistics are released showing that "battlefield fatalities are at an all time low" they need to spin it somehow. How they choose to was by saying that "The toll on U.S. troops of war in Iraq and Afghanistan may be obscured by dramatic advances in battlefield medicine that allow more soldiers to survive combat". (
source
)
Also, Looks like someone at Slate.com
listens to Rush
!