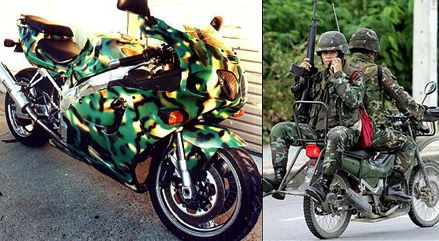 What has caused almost as many soldier and marine deaths and casualties than al Qaeda and IEDs in Afghanistan? Apparently motorcycles...
"Nearly 350 troops have died on motorcycles since the 2001 terrorist attacks. That's compared to 259 killed while serving in Afghanistan. Nearly 1,000 more troops have been injured on motorcycles." (
source
)
Marines stationed out of Camp Lejeune are returning from a war zone only to be killed or maimed in motorcycle accidents...
The DOD has set up and new (and mandatory)
motorcycle safety program
.
I wonder if this has to do with a feeling of being invincible after surviving the hell of a war zone. I'd be willing to bet these were all accidents on Rice Burners and not on Harleys... If either of my sons ever wants a bike --it has to be a cruiser. No Jap Crap allowed...I've seen WAY too many young boys abusing them…
(H/T: Liz!)