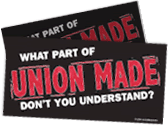 Yesterday I found myself driving behind a Sanford & Son-esque truck with a bumper sticker in the back window that read:
"What Part of union made Don't You Understand?"
Immediately my brain began running down Union-Made qualities:
1) It took at least three weeks longer than it should have...
2) It cost at least three times more than it should have...
3) It's most likely made poorly, so you will have to pay to have it re-done in about three weeks...
I started laughing as I realized that wasn't what the sticker was meant to convey. Wonder how many others think the same things I did when they see it, and wouldn't that Union guy be upset to hear about that little word-association game...
Yeah, unfortunately for you dude, I know
exactly
what "Union Made" means...