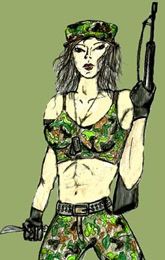 ...is now in "The Stan".
Army Girl
(AG) said her goodbyes a little bit ago and is now busy being an Army Girl in Afghanistan.
Though I can't tell you much about the where's and when's (mainly 'cause I don't know), I can tell you that she arrived there safely and is doing well. Tired, but good and I think pleasantly surprised at the operation they got goin' there...
I am going to send her this post and the comments here...so if you want to say anything to our
Major
Sergeant
Captain
Specialist
(haha, I'll never tell!) AG, feel free to do so here and I'll make sure she gets it as there may be limited internet access for a bit!
Hey AG, no pressure or anything, but Justice and Mason are totally counting on you for the Bin Laden take down girl! ;)
ALSO, Desult is officially at boot camp and I hear she's kicking some serious butt! PRM(Bonnie) is keeping us updated as she gets word --you can get the updates at:
Desultory Butterfly
. Good Luck girl!