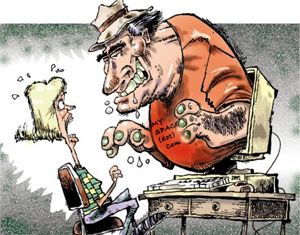 A few new articles out suggest, not so subtly, that the site My Space (recently acquired by Rupert Murdoch if I'm not mistaken) is a treasure trove of information for child/teenage predators.
This information comes as no surprise to me. I have been on many a page that tells what school the pre-teen goes to and SO much personal info that would make finding them much too easy...
"In League City, Texas, it would be unusual to make one arrest of a suspected online sexual predator in a month. But in the last two weeks, detectives there have tracked down two men whom they've charged with sexual assault of a minor. Both of the accused men found or conversed with their victims via the social-networking Web site MySpace.com, according to League City police." (
source
)
Yes, I am ashamed to admit that I have a MySpace page....BUT, it was started ONLY because you need to log in to look at other people's pictures, and all my siblings have pages. I have always felt that MySpace was for the 20's set, and said as much on the "About Me" on the page. Now the articles that have come out make me feel like an even bigger loser as all of them refer to MySpace as "the teenage page". Duh-oh! Now I really have to delete it...
"It's a cyber secret teenagers keep from tech-challenged parents who are not as savvy as Margaret. It's a world where the kids next door can play any role they want. They may not realize everyone with Internet access, including sexual predators, may see the pictures and personal information they post.
When "Dateline" surfed MySpace, we found scenes of binge drinking, apparent drug use, teens posing in underwear, and other members simulating sex, and in some cases even having it. We also found less provocative pages like Shannon's was, but potentially even more dangerous. Teens listed not only their names, and addresses, but even cell phone numbers and after school schedules." (
source
)
Here's
another article
, and here's the
email that MySpace sent to MSNBC
about their security measures.
Must go delete my page now...