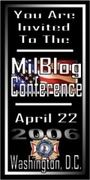 ...and I wanna go!!!
Attention all milbloggers
-the first 150 seats are being held for you, and then us lowly civilians get a shot at the remaining 150 (I think).
Milblog Conference: April 22, 2006, Washington, D.C.
"We will explore the history of milblogs, as well as what the future may hold for this medium which the military community is using to tell their stories.
The milblog community is diverse, and we intend to showcase the full spectrum of milblogs, including those who have blogged from theater, veteran members of the armed forces, spouses and parents.
Pre-registration will begin on February 8 and continue through midnight February 15. (
Pre-registration is for milbloggers and/or members of the military community. You DO NOT have to be a milblogger to register. Registration is open to active-duty service members, veterans and spouses. For milbloggers, if you're going to bring your spouse, you need to register them too. We have 150 seats available for pre-registration, and 300 total seats, so EVERYONE attending will need to register.
) Any slots not filled by milbloggers will be given to the general public. Registration for the public will begin on February 16. All registrations are first-come, first-serve. Attire is casual." (
source
)
Some of the panelists thus far include:
Blackfive
,
JP (Milblogging.com)
,
Chuck & Carren Z. (From my Position)
,
Holly Aho (Soldier's Angels)
,
Citizen Smash
and
Andi (Andi's World)
. (There are more, but these are the people that I know...(or read).
..Come on guys, I don't take up much room ;)