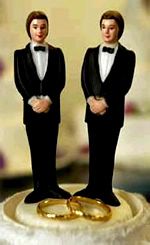 It seems that in a rush to get an amendment banning gay marriage onto a ballot --the current bill could also ban divorce...
"...Simmons said the proposed amendment, submitted by Del. Donald H. Dwyer Jr. (R-Anne Arundel), would nullify local laws in Montgomery County and Baltimore that allow gay public employees to extend health benefits to their partners and to own property jointly. A law professor later said Dwyer's proposal was "so incoherent and sloppy" that it could inadvertently outlaw divorce..." (
source
)
Dwyer claims he didn't mean to strip anyone of rights they already have. You already know how I feel about this. Civil Unions for all...marriage
only
or those who want the union made before God.
What irony though...
...if marriage is so sacred there shouldn't be a need for divorce anyway, right?