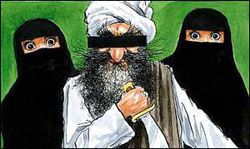 People are still dying in the Sudan, terrorists are on the loose, Iran is developing nuclear weapons and Kofi is now concerning himself with cartoons. Not the riots ensuing from the cartoons, mind you...but the re-publishing of the cartoons.
I keep promising myself that I won't post about this again because my head is ready o explode, but then I read a story like this...
"UN Secretary-General Kofi Annan scolded the media for continuing to publish cartoons lampooning the Prophet Mohammed and defended an attempt by Islamic nations to have a new UN human-rights council address religious defamation.
Annan also said he had no knowledge about US Secretary of State Condoleezza Rice's assertion on Wednesday that Iran and Syria had gone out of their way "to inflame sentiments and to use this to their own purposes."
"I have no evidence to that effect," Annan told reporters after arriving at UN headquarters. "This is so widespread, and it is unfortunate (and) we all need to take steps to calm the situation." (
source
)
Seriously, how is the guy still the head of an international organization that is funded so heavily by the U.S.?