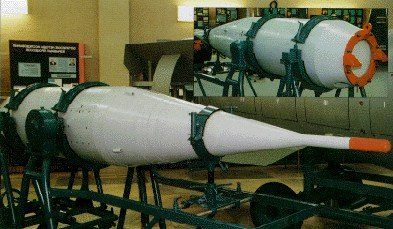 That's what Germany is claiming anyway...
"Leading-edge (German) technology sold in a completely legal fashion to Russian enterprises and research institutes has been transmitted immediately to Iranian and Syrian workshops manufacturing missiles," the magazine said, quoting from a warning letter to "numerous German enterprises."
Iran used German measuring instruments and propulsion and control systems in its Shahab-3 missile, which with its 3,500-kilometer (2,175-miles) range could strike European targets with nuclear warheads, the magazine reported.
Meanwhile, Syria exploited German technology to modernize its obsolete Scud missiles, which pose a threat to Israel." (
source
)
Some sources say that two Germans have been arrested for supplying this crucial information.
"A nuclear weapon is a precision machine, containing many complex electronic, mechanical and chemical components. The ballistic missile basically carries the warhead outside the earth's atmosphere, and then sends it back ("reentry") at speeds in excess of 20,000 kilometers an hour (nearly six kilometers a second). It's this speed that creates tremendous heat, as the warhead enters the atmosphere. The high speeds also create high G forces and vibration. All this generates some very unfriendly conditions for the components of the nuclear device. It is not easy to build a warhead that can keep the nuclear device in operating order. The two Germans were specifically charged with getting a vibration testing device out of the country, and to Iran. This device makes it possible to test nuclear bomb and warhead structure components without having to launch a missile." (
source
)
There wasn't much information out there about this, but should it prove to be true...it seems a bit more pressing that wiretaps, non-covert leaks, cartoons or accidental shootings.
I was also surprised to see that Russia has
so many more nukes
than we do...
Stop the ACLU
has links to articles that claim the Pentagon is gearing up for a hit on Iran...