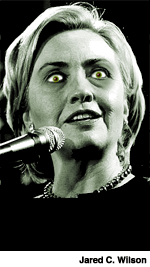 All of the "real life" Democrats I know say Hillary will never get the DNC nomination and they don't want her to, BUT all the professionals (the pundits, spokespeople and talking heads) seem to think Hillary is a shoo-in. That it will be (in Sean Hannity's words) a "coronation instead of a nomination".
This article
seems to marry the two opinions. It seems to say that no one wants her to run and even her supporters think she may hurt the cause, but that she will indeed run and have a good shot at the nomination because of her huge financial advantage...
"Party insiders think she will enter the race shortly after her expected re-election as a New York senator later this year -- with a $50 million head start on fund raising toward 2008.
But ominous signs abound, and combined, they suggest her campaign would conjure a clash between the lure of Clinton nostalgia and the fear of Clinton fatigue.
One new poll shows that a majority of registered voters never would vote for her. Another shows that a majority do not want her to run, including a majority of independent voters.
One veteran South Carolina Democratic strategist says she is so well-known -- and polarizing -- that it is hard to see how she could change any minds.
"We all believe she's wonderful," said Dick Harpootlian, a former South Carolina Democratic Party chairman. "But we also believe that if she's the nominee, it sets up perfectly for the Republicans to win the White House for another four years."
Clinton has not committed to running. Aides say she is focused on winning her second Senate term next November, and they declined to comment on what they insist is a hypothetical 2008 presidential campaign.
Still, party activists expect her to run, and to start with a decided edge over such potential rivals as former Virginia Gov. Mark Warner, Sens. John Kerry of Massachusetts and Joseph Biden of Delaware, former Sen. John Edwards of North Carolina and New Mexico Gov. Bill Richardson.
One reason for her presumptive lead, of course, is the affection in the party for her husband and hope that she could replicate his victories.
Another is her financial clout. She started this year with $17 million in the bank for a re-election that is assumed to be a breeze. Yet she is raising money at a fever pitch....
...A poll last week by Marist College underscored those fears. The WNBC/Marist Poll showed that 51 percent of registered voters do not want her to run, including 25 percent of Democrats and 53 percent of independents.
Also, 51 percent of registered voters in a recent Gallup poll said they definitely would not vote for Clinton. (
Read the rest of the article
)
I don't know about all of you, but I find all this absolutely fascinating...