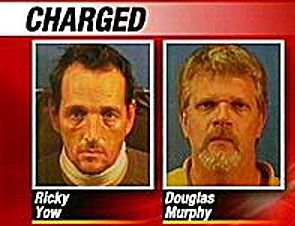 Ricky Odell Yow is a 42 year old AIDS activist in North Carolina and the founder of
Global Wheel of Hope
(an organization that performs AIDS-HIV education in schools).
Yow found out that he had AIDS when he was 24 years old and vowed to reach and educate as many children as he could. His goal for 2006 was to "make contact" with 4,000 kids.
Last week Yow and his life-mate, Douglas Wayne Murphy, were charged with raping a 13 year old boy (charged with
38
sex crimes total). Yow and Murphy are being held on "$1.5 million bond after being charged with five counts of taking indecent liberties with a child, three counts each of a first-degree sex offense with a child, using a minor to assist in an obscenity, first-degree sexual exploitation of a minor, crimes against nature and two counts of contributing to the delinquency of a minor." (
source 1
,
source 2
)
Sickening. If this young boy has contracted AIDS...I am back on board for the death penalty. Yow's house, in which the boy was violated, has a sign that reads "Peace to all that enter here" on the door. Police are currently investigating other possible victims...