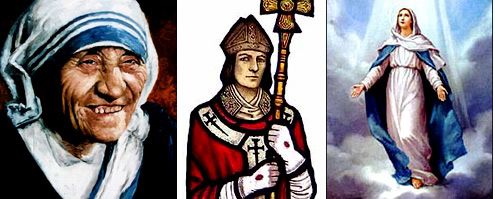 I found this quite fascinating... especially after finding out recently that
Mother Theresa was "exorcized" in 1997
. Catholic Saint named one of the worst villains in Britain's history...
"St. Thomas Becket, a 12th-century archbishop of Canterbury, was among 10 "worst Britons" of the last millennium, selected by a group of British historians. The saint, whose feast is celebrated Dec. 29, was chosen by John Hudson, a professor at the University of St. Andrews, Scotland, because he divided England in a way that was "unnecessary and self-indulgent."
"He was a founder of gesture politics with the most acute of eyes for what would now be called the photo opportunity," said Hudson, a specialist in early medieval English and French history.
"He was also greedy," he said in BBC History magazine Dec. 27. "Those who share my prejudice against Becket may consider his assassination in Canterbury Cathedral Dec. 29, 1170, a fittingly grisly end."
BBC History magazine compiled the list after asking 10 historians to name their pick for "worst Briton."(
source
)
...and that 6 million Catholics petitioned the Pope to officially name Co-redeemer after he referred to her that way in Papal addresses:
"At least five times Pope Paul II has referred to Mary by the title "Co-redemptrix" in his papal teachings. For example, in 1985, in Guayaquil, Ecuador, the pope said: "Mary goes before us and accompanies us. The silent journey that begins with her Immaculate Conception and passes through the 'yes' of Nazareth, which makes her the Mother of God, finds on Calvary a particularly important moment. … In fact, at Calvary she united herself with the sacrifice of her Son that led to the foundation of the Church; her maternal heart shared to the very depths the will of Christ 'to gather into one all the dispersed children of God' (Jn. 11:52). Having suffered for the Church, Mary deserved to become the Mother of all the disciples of her Son, the Mother of their unity. … In fact Mary's role as Coredemptrix did not cease with the glorification of her Son" (Inside the Vatican, July 1997, p. 23). (
source
)
Interesting...