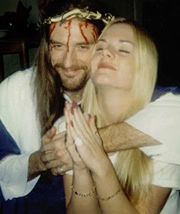 An Italian Court is actually hearing a case to
decide if Jesus really did exist
. Talk about a cold case file...
"An Italian court is tackling Jesus -- and whether the Roman Catholic Church may be breaking the law by teaching that he existed 2,000 years ago.
"I started this lawsuit because I wanted to deal the final blow against the Church, the bearer of obscurantism and regression," Cascioli told Reuters.
Cascioli says Righi, and by extension the whole Church, broke two Italian laws. The first is "Abuso di Credulita Popolare" (Abuse of Popular Belief) meant to protect people against being swindled or conned. The second crime, he says, is "Sostituzione di Persona," or impersonation.
"The Church constructed Christ upon the personality of John of Gamala," Cascioli claimed, referring to the 1st century Jew who fought against the Roman army." (
source
)
...And here we thought Intelligent Design VS. Primordial Slime was a pressing issue.