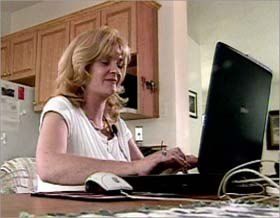 How did I miss this story?
Shannen Rossmiller
was an average American mom who was pissed after 9/11...but she did something about it. She created an online Muslim Extremist alter ego and wandered through chat rooms.
She eventually met someone who wanted to met with "her contacts" in Al Qaeda to give them classified information. It soon became clear that she was speaking with an American soldier who was about to deploy to Iraq with his National Guard unit.
Rossmiller contacted the FBI and homeland security and was part of a sting operation that ended with Spc. Ryan G. Anderson (of the 81st Armor Brigade) giving classified information regarding the weak points of the M1A1 Abrams and Bradley tanks.
Anderson, a 27 yr. old Muslim convert, was subsequently sentenced
to FIVE consecutive life sentences by a military court. (Though his defense attorneys argued this was all a result of bi-polar induced grandiose ideas...)
The Discovery Times Channel ran the story and you can watch it at
TheYNC.com
. What a great story...gotta love those pro-active, pre-emptive minded Americans!