Three quick things...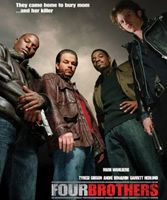 1) I think I may have seen the WORST movie ever.
The Four Brothers
. Did I think it would be a good movie? I guess, the previews looked pretty good (though definitely a rent-at-home and not a theater choice). After watching this movie I would say...don't even waste your time if it's free on HBO.
Justrose
said that she read something in Vanity Fair proclaiming that Marky Mark was Hollywood's next Carey Grant... He better get someone else to pick his scripts...
2) I am not a big boycott fan. Mostly I think they're silly and ask people to stop doing something they don't normally do anyway. However, I am having my own personal temper tantrum and boycott against CBS. They had the audacity to cancel my very favorite show and probably the best drama on TV (besides Law & Order)...
Judging Amy
. I don't know how to explain this without sounding like a total metal case, but I've invested a lot of time into the Gray family and I will never know what happened... Did Amy and Bruce ever get together? Did Eric come back from Canada? Did Amy ever talk to David again?
I've decided the reason that I loved the show so much is because Tyne Daly's character is the personification of the mom that I want to be when my kids are grown... Damn CBS.
3) I found it amusing that the New York Times' response to rapidly falling subscriptions was to hire
Ted Koppel to write a column
. Wouldn't the smart thing be to hire someone with a
different
point of view if sales are dropping...?