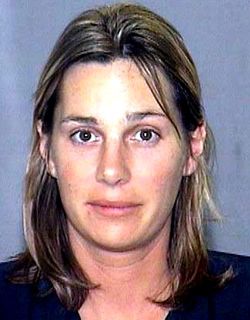 It seems that a woman killed her Marine sergeant husband and got breast implants with the insurance money.
Sgt. Todd Sommer was just 23 years old -so preliminary reports of a heart attack were followed up on to find that he died of "acute arsinic poisoning". Cynthia Sommer, 32, moved to Florida from San Diego in 2002 with a new boyfriend, an ex-Marine, just weeks after her husband's death.
"Court documents filed by prosecutors allege that Sommer was eager to get her husband's life insurance of more than $250,000 and the monthly survivor payments of nearly $1,900. The couple had a son and she had three other children from a previous marriage.
In an interview conducted by Naval Criminal Investigative Service agents, Sommer said her husband had been nauseated and vomiting for a week before his death. Sommer's "close proximity to the victim allowed for the type of access required to facilitate acute arsenic poisoning," an investigator wrote.
Sommer's neighbor on the Miramar base told the investigators that after Todd Sommer's death, his wife threw a series of loud parties and showed the results of her breast augmentation, which had cost $5,400.
"Cindy's excuse for the lifestyle she started living after [her husband's death] was that he was very strict. He didn't like for her to go out partying [or] staying out with her friends," a family friend told investigators.
"Todd also didn't want her to get her breasts enlarged, so I think that she was living out the fantasy life that she really wanted," the friend said, according to court documents.
Sommer also paid to have her name listed on an Internet service that provides an "adult dating community focused on sexual discovery." (
source
)