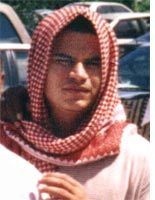 A small victory in the case of (as the MSM puts it) "accused enemy combatant" Jose Padilla:
"The Supreme Court agreed Wednesday to let the military transfer accused "enemy combatant" Jose Padilla to Miami to face criminal charges in at least a temporary victory for the Bush administration.
The justices overruled a lower court, which had attempted to block the transfer as part of a rebuke to the White House." (
source
)
Since the NY chapter of the ACLU, among a plethora of other "civil liberties" groups, has already
filed papers calling for the release of Jose
...I can only assume an uproar is in the making as I type. --Is this like a Mumia thing where opponents of Padilla's detention aren't claiming he's innocent, but that he should go free because he was unfairly treated...? I don't pretend to know their angle.
Lest you forget, this is the man that was caught making preparations to unleash a dirty bomb (You can read his own
statements of intent here
). Much has been made of the fact that he was "not caught on the battlefields of Afghanistan, but at Chicago's O'Hare airport". Exactly! Isn't that 1,000 times worse? He couldn't detonate hundreds of Americans from Kabul.
Let's do this thing.