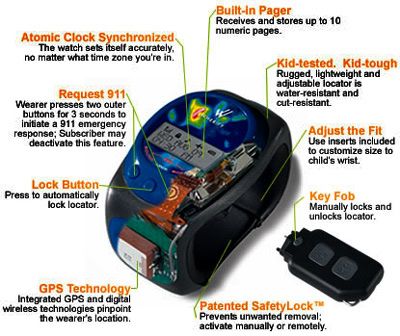 Back in September of 2004 I did a post about the possibility of
GPS implants in children
...a lot of people must be interested in that technology because I still get one or two emails a week from people who found that post searching Google.
Someone just sent me a link to the
Wherify GPS Child Locator Watch
which is only one step down from an actual GPS implant in your child. This watch has a pager capability, it calls 911 and it has GPS tracking. It looks like a regular kid watch, so a pedophile/abductor probably wouldn't think to remove it (it has a locking feature also).
This is such a great idea --and sadly a necessity in the world we live in. It is a bit pricey (On sale now for $179.99 from $399) -but what price can we put on a child's life?
...Now, if the government can use taxpayer dollars to subsidize INFANT FORMULA through WIC (when all women have free milk in their bodies) they should subsidize this for all kids. End the free formula and the Head Start program that's been a proven bust and give kids something that could actually save their lives...
(Remy: Thanks for the heads up!)