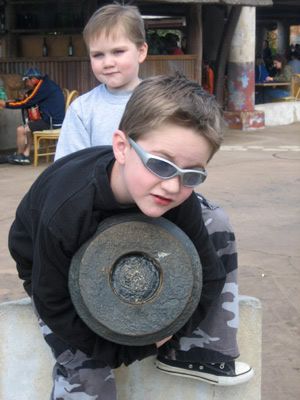 Lest anyone think that I am as maladjusted as I claim The Man is, let me just say that we did have a great week. I updated you on the more annoying aspects of the adventure because if you want the "sunny" side of it you can send away for the free Disney video. And it just wouldn't be funny.
"If you don't have anything nice to say... Come sit by me!" -Olympia Dukakis, Steel Magnolias
Anyone thinking of braving "the happiest celebration of earth":
I would HIGHLY recommend that you go this time of year. We didn't wait more than five minutes for any ride (even the top attractions) --and make sure to use "Fast Pass".
Reserve two days for EPCOT (skip MGM if you have to).
Embrace all the odd things that are going on --if it weren't for all the Mickey-o-philes, what would there be to talk about?
If you are the type of parents like The Man and I and Disney really isn't your thing (we would have rather been walking around Glasgow, Belfast and Cork) --it really is worth it to see the looks on your kids' faces.
I would discourage anyone with kids under 6 or 7 --even the rides geared towards little kids (Bugs Life, Mickey's PhilharMagic) are scary for kids. And it's SO much walking (made worse by playing Frogger with all the strollers).
Not to ruin my reputation or anything, but we're really glad that we went...
I also wanted to say a very sincere thanks to SpaceMonkey, Free, Nimbus, Nate and CJM for the really great guest posts. A major bow to Free for getting his post linked over at The Anti-Idiotarian Rottweiler by the Emperor Darth Misha I himself (something I haven't managed to do)!!!! Nice one! You guys are awesome...thanks!