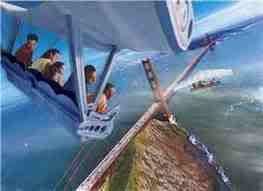 Intinerary: Epcot
1) FINALLY, a good cup of coffee!
2) "Soarin'" is one of the coolest virtual reality rides ever --if they made it a little longer and a bit faster it would be
the
coolest...
3) My feet are killing me -we walked through Canada, the UK, France, Japan, Morocco, America, Germany, China, Norway and Mexico all in 9 hours.
4) Kelly Rippa is a frustrated mother just like the rest of us --and how do I know that? We sat next to her, her handsome (but short) hubby and their three kids at a Mexican restaurant. (Only one other couple noticed, but like I said...they were probably the only other Americans).
5) Population breakdown (IMO):
French: 70%
Other foreigners: 10%
Orthodox Jews: 7%
Harley People in Leather Mickey Jackets: 5%
Other Americans: 5%
African Americans: 2%
So, here's what I'm thinking... Europeans always say how fat and ugly Americans are, BUT Disney is the only place in America they've ever been. There are no Americans here, so they must be looking at other Europeans and thinking they're American. Now, I'm not denying that most Americans are fat and ugly (a fact that has been driven home this week), but I highly resent any non-American saying that...
Have to go now and figure out how I am going to get us to Universal Studios tomorrow without spending the $17/person that Disney Magical Express is asking...