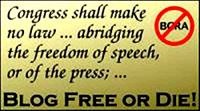 I always want to write a post about this...but it would have to be a big post, and I don't do big posts because I don't believe that anyone reads big posts (most people probably just skim the small ones...)
There are so many facets to this issue that writing about it would require a near-dissertation. The problem is that McCain Feingold was a huge step in the WRONG direction for this country and for free speech and political discourse. It needs to be examined, addressed and vetted by the people....but never will be if no one is willing to wade in and find a way to make it interesting.
THIS ARTICLE
is long, but it's the best one that I've read so far... You should bookmark it and read/skim through when you have the time. This could affect all of us at some point in the near future...