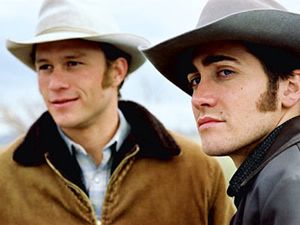 Everyone that I know who has seen this film, has loved it. They have all raved about Heath Ledger's performance and all claimed that it is very Oscar-worthy. I plan on seeing it --actually I see most movies, when they get to DVD.
I just read on
Drudge
that a
theater outside Salt Lake City pulled the film at the last minute
.
" The movie's distributor, Focus Features, said that hours before opening, the theater management "reneged on their licensing agreement," and refused to open the film...
...Mike Thompson, executive director of the gay rights advocacy group Equality Utah, called it disappointing.
"It's just a shame that such a beautiful and award-winning film with so much buzz about it is not being made available to a broad Utah audience
because of personal bias
". (
source
)
Here's the thing, why aren't the Gay-Rights Advocacy Groups mad at the fact that this isn't being advertised as a "gay film". If you watch the TV commercial for the film --there is NO indication. What is that saying about the distributors? In the television commercial EVERY time they show Jake or Heath they are with their wives...
Every time I see it I can't help feeling it's a bit shady. "A great American love story" as they zoom in on a shot of Heath Ledger with his arm around his woman. Don't trick people to get them to go...just advertise it they way the trailer is done.
I can't help but think there's been some non-news-watching redneck couple who went to see this because SueEllen wanted JoeBob to see a "date movie" with her. She was promptly smacked around and drug from the theater 15 minutes into the movie...
I realize this is where I part company with many of the strict-Conservatives... I have no problem with this film and the show
Book of Daniel that everyone is up in arms about
actually sounds like a show that I would watch.