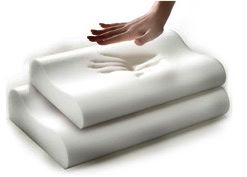 For two weeks(+) I have woken up with
severe
neck pain. I was convinced I had meningitis or Non-Hodgkin's lymphoma (my doctor has told me on more than one occasion to stop reading medical journals). I told my best friend, JustRose, about the pain and how in the morning I couldn't even tip my chin down...
She was at the mall Friday night and got me a
Memory Foam contour pillow
(we already have the memory foam bed topper and LOVE it). It was a bit strange falling asleep the first night because the pillow is much stiffer than what I am used to.
When I woke on Saturday morning I had NO PAIN! This pillow claims to give "one of the most restful night's sleep of your life" and says that it "gives relief to back and neck pain sufferers" along with helping "reduce snoring, stress and insomnia". It's TRUE!
As usual this endorsement is an unsolicited, unpaid recommendation for a product that is SO worth the money... They sell this at those "As Seen on TV" stores.