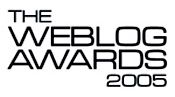 Voting begins today for the 2005 Weblog awards.
I tell you this in a purely altruistic manner as I was not nominated... (thanks for that by the way -LOL)
Also, I can't divulge how my votes will swing as I have several favorites in many of the categories...
Go Vote
(There is also a button that will remain in the sidebar while voting is open).

***Make sure you vote --Daily Kos is currently in the lead for "Best Blog" and we all KNOW that isn't the case!!!!!!!!!!!!!!!!*** NO "BLOGS FOR HIRE" in the Blog Awards!!!