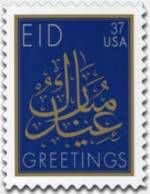 Have you received the email telling you to "Boycott the USPS Muslim stamp"? Whenever I used to get forwards such as this I would get all worked up, but now I make sure to check everything on the various fact-or-fiction pages...
Here's the thing with the stamp... I did
find it on the United States Postal Service website
(it was first released in August 20001 as part of the "holiday series"). It is still available each Christmas, but really this doesn't bother me. If you look through
the stamps available
they seem pretty proportionate to society. There are three Christmassy ones (Santa cookies, snowmen, etc), one Mary & Jesus, a Dradle, a Kwanza and the Muslim one. Yes, the Jesus in the manger one doesn't exist, but what can you do...
Fair is all I ask. If you have a Kwanza stamp and a Muslim stamp -that's fine with me if you don't cut out the Christmas stamps to be PC when 90% of Americans celebrate Christmas...
The email forward is a little silly because it's asking people to boycott something they would never buy anyway. When the Christmas stamps are gone and this one is still available --that's when I'll be sending emails...