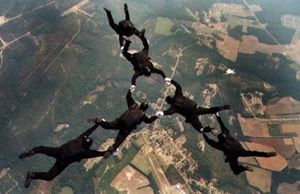 For all of you that email to tell me that I over GLORIFY and ROMANTICIZE the military...
Do me a favor. Watch
The Military Channel
for ONE week.
Suggestion: The Elite Forces series.
10th Mountain Division
(on tonight)
HALO: Freefall Warriors
(Hey, have any of you guys here been through this school at Bragg? --too cool...)
There are specials about the 82nd, about Sniper school, Parris Island...
Anyway, all that think my admiration is unwarranted and the military is made up of a bunch of hicks just looking for tech school money --watch some of these shows. There are schools (the HALO one for instance) that Special Forces officers have been waiting up to TEN years to get into!

*This has been an unsolicited and unpaid advert*