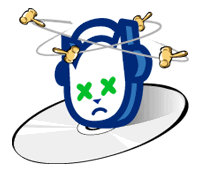 Last weekend I posted about tesco's new MP3-hosting site
100 Records
in a blatant act of nepotism. Today I talk about it today as self-promotion...
I have decided to become a contributor. I thought that I would join the site to diversify the MP3s that will be posted. I am looking at it as an extension to the "Sandbox" posts. I am trying to give the boys stuff to look at (even though most of them have the pics blocked) and now stuff to listen to. I even added a bit of gun prOn... ;)
Since my taste is SO all over the place, I am sure the other contributors will snub their noses at my contributions...which will range from Charlie Daniels to Pantera to Kanye West...
Last night I was thinking about the whole Metallica suing Napster thing and how all the musicians complain that people are "stealing" their music. That is such a load of crap. Technology advances. The last three times technology advanced the artists were the ones that benefited. Everyone had to buy albums they had on record on eight tracks, then on tape and finally re-purchase their whole collection on CD. Did you hear the bands looking to help the consumers out then? Did Metallica care about me when I had to buy Kill 'Em All on three different mediums? That means Metallica got paid three times for that album just from me ($60 per alubum?)... So fine, this jump in technology finally hurts them and
now they're whining about it
. I feel perfectly justified in sharing albums bought thrice with my friends...
This time I stuck to the "rules of the site" and picked one album and posted on it, but I think next time I'll do a variety by genre (I've never been all that good at following rules). So make sure you go
check out my debut
, leave a "welcome to me" comment, link the site and enjoy the tunes that are there and all the awesome ones I intend to have there soon!
Damn the man! ;)