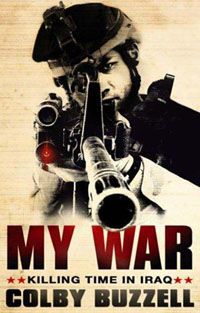 I recently read Anthony Swofford's review of My War, by Colby Buzzell. Swofford, a former Marine sniper and Gulf War veteran, is the author of Jarhead, the successful memoir of his Gulf War experience, which has recently shown up on the Hollywood big screen as a top box office seller.
All in all, I think Jarhead was a fairly good read. Criticisms abound regarding the manner in which Swofford portrays the Marines—which for the most part seem to stem from people who cling to the sentiment and disillusion that all things military must be John Wayne like. There is though, an annoying overtone of whining in his account, and an even more annoying hint of supplication to the cultured academic elite (which seems to be his intended audience), as if with a wink and a nod he readily validates that echelon's misguided and misinformed perceptions and stereotypes of the military, and in particular, all-male combat culture they so disdain.
The most redeeming quality of his memoir, which was illuminated even better in the movie, is Swofford's honest portrayal of having never squeezed the trigger. In the first Gulf War, there was absolutely no substantial role for light infantry, let alone snipers. While Jarhead may be the defining account of a sniper's role in the Gulf War, it is not the defining account of the war—which will be better served by someone who directly participated in the armored blitzkrieg of a slaughter that it was (i.e., the 1 out of every 14 Gulf War soldiers who actually did squeeze the trigger).
I'm not here though to focus on Jarhead, I'll leave that to the sophomore at Brown or Amherst or Dartmouth…as a former dirt soldier of the first Gulf War, I'm here to zero in on My War. I found Swofford's review of My War to not only be, pardon the pun, entirely off the mark, but startlingly offensive. The crux of his review seems to be a critique that Buzzell's writing is not seasoned and is not "literary" enough, and comes off more like a collection of blog entries…again, more supplicating, or shall I say sucking up, to his Columbia University audience.
Buzzell's writing is indeed not seasoned, it is charred and sizzling meat plucked straight out of the fire—it'll fucking burn you while it nourishes you. Buzzell's writing does perhaps lack some kind of literary flourish—but so fucking what? Again, when I read Jarhead, I'm reading the witty, dry prose of a University of Iowa Writers Workshop project—when I read My War, I'm back on O.P., in the foxhole with a fellow two year enlistee dog shooting the shit the way that only dirt soldiers do. When I read Jarhead, I'm sitting in a freshman creative writing class being forced to listen to a young professor read his own writing to the class in a painstakingly obvious effort to get into the pants of the freshman girls. When I read My War, its right after the last formation and I'm up on the third floor of the barracks, with my BDUs still half on but with a bottle of Mad Dog hoisted to my lips…
Swofford's various critiques are rather pointless, trifling, and somewhat irrational. He mocks the fact that Buzzell was a "typical Northern California stoner kid" who joins the Army in a typical way, complete with taking pains to pass the piss test and marrying for the extra cash…he mocks the precise beauty of this book—it's unflinching and non-judging look at the everyday realities of the common junior soldier. Who the hell does Swofford think joins the Army (or Marines for that matter)?
Furthermore, and more importantly, Swofford seems to diminish the importance of My War. He should know better. Many a Gulf War soldier left the theatre with a nagging and certain knowledge that their experience was but a prelude of something way bigger to come…we knew we'd be back. We knew that "next time" we'd be going to Baghdad. The common rejoinder was "next time, dog, it ain't goin' to be no joke." And it has not been a joke. For those of us who did grind up Iraqi lives in our track treads the first time around, My War is captivating in a way that Jarhead never could be…we knew the desert slaughter was giving birth to the surreal urban nightmare that our soldiers now find themselves in, and Buzzell documents it for us in a language we well know.
In time, history students and lovers of the literary will look to My War as a defining account of the overall Army experience in the Middle East, while Jarhead will rightly be passed off as some kind of Tim O'Brian wannabe. Swofford's review reads like a severe case of penis envy.
My War fucking rocks.

by:
91Ghost