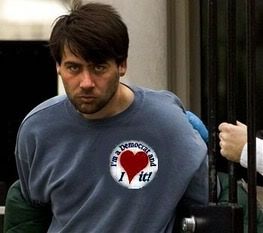 No, it wasn't
RBP
(I was worried when I first saw the headlines...*wink*), it was another disgruntled Southerner that
attempted to infiltrate the White House yesterday
.
"A Secret Service spokesman, Jonathan Cherry, identified the man as Shawn A. Cox. Mr. Cherry said Mr. Cox was being charged with unlawful entry and was expected to appear Monday in Federal District Court.
Mr. Cox has previously come to the attention of the Secret Service, Mr. Cherry said.
Mr. Cherry said he did not know why Mr. Cox wanted to enter the White House grounds. He did not have a weapon."
I wonder if he's one of those "non-violent" peace activists....?