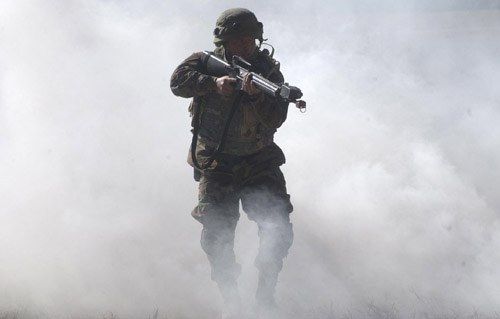 From Dictatorship to Democracy, Soldiers Strive to Improve Iraqi Lives
BAYJI, Iraq (30 November 2005) – The upcoming mid-December elections in Iraq will be a world-altering event. Iraq will have a
democratically
elected government.
The "Rakkasans," of Company C, 1st Battalion, 187th Infantry Regiment, 3rd Brigade Combat Team have been working
tirelessly
to encourage Iraqis to vote. Troops drive through villages with a loudspeaker vehicle playing Arabic messages, telling villagers when the elections begin.
Capt. Chris Judge, Commander of Company C, walks among the civilians and talks to them about
voting
. It is a common site to see the commander, interpreter in tow, speaking with groups of people along the streets. "The most
important
thing we can deliver to the Iraqis, as a result of Operation Iraqi Freedom, is that they have a functioning, representative government," said Judge.
A self-sustaining government isn't all that Iraq needs, so Soldiers also meet with local Iraqi police to discuss their
training
and control of the area. "In order for us to leave Iraq and give it any sort of stability, it's going to be
crucial
that they [Iraqis] have a police force that the people believe in and one that has authority," said Judge. "Sheiks are a legitimate source of authority for the Iraqis, so it is important that we have a good relationship with them," said Judge.
In addition to
encouraging
the sheik to vote, Judge also discusses curfew changes and additional security measures being taken during the elections week. The curfew is changing from 10 p.m. to 9 p.m.
"We try to make it so that the only people out at night are the bad guys," said Judge. "It makes it easier for us to target them." Judge and Sheik Adnon discussed different avenues to
improve
Iraqi people's lives. Currently there is only one gas station in the immediate area.
"I am willing to give you guys anything you need – any help," said Adnon during the meeting. Judge and Adnon set up a meeting for later in the week, including the city council. At the meeting, Judge can speak with all the village sheiks about the elections and the importance of their people voting. "Sheiks are very pragmatic, reality-based people," said Judge. "They understand that we are going to be here for a while and that it
benefits
the Iraqi people to work with us."
Over the next couple of weeks Soldiers will
continue
to travel through villages encouraging the people to vote.
"When people have
free will
to do what they want, and they have representatives that
enact
what they want, countries take a different path," said Judge.
-PFC Cassandra Groce 133rd MPAD (
DVIDS -Centcom
)
...girls at Ft. Bragg...
1
,
2
,
3
,
4
,
5
,
6