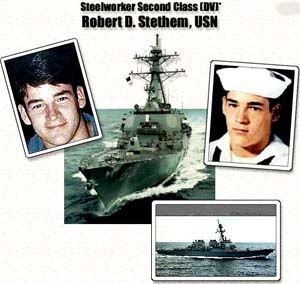 In June of 1985 a TWA flight going from Athens to Rome was hijacked. Thirty-nine Americans were held hostage by terrorists 17 days, but one American, a Navy diver, was beaten and killed. Robert Dean Stethem's body was then thrown to the tarmac. He was 23 years old.
Mohammed Ali Hamadi
, one of those hijackers that killed an American service member, was released from a German prison this week and has returned to lovely Beirut where he is a known member of Hezbollah.
"U.S. authorities had requested his extradition so he could stand trial in the United States, but the Germans, who have no death penalty, insisted on prosecuting Hamadi.
German Foreign Ministry spokesman Martin Jaeger said there was no connection between Hamadi's release and the recent freeing of former hostage Susanne Osthoff, a German woman released over the weekend after spending more than three weeks as a captive in Iraq." (
source
)
So the Germans insist on keeping and trying him (even though he killed an American and not a German) and then let him go right back into Hezbollah's open arms? Lest you think that the hijacking was a one-shot deal for Mohammed, the reason that he was in German custody to begin with was he was caught in an airport with explosives.
"Stethem family members said they learned of Hamadi's release Friday from federal investigators who had worked on the case. Stethem's brother, Kenneth, blamed the U.S. government for not doing enough to keep Hamadi imprisoned.
"Rob gave his life. He gave his full measure and I haven't seen anybody give as much to securing his killer as he did in life defending his country," Kenneth Stethem said.
The family now hopes the Bush administration will pressure Lebanon to extradite Hamadi so he can be tried in a U.S. court." (
source
)
H/T:
91Ghost