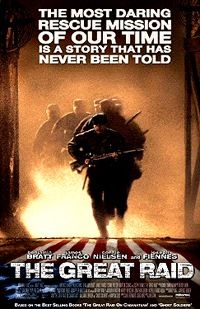 The Great Raid
is released on DVD today. GO BUY IT. Unfortunately, this movie didn't get much press for its theater release. It was a great movie both on an entertainment level AND a historical level with real footage before and after the movie.
This would make a great Christmas present
for me
for the History/Military Channel enthusiast in your life (but even if you're not into "war movies", I guarantee you'll still like this one)
...Speaking of the military, I normally find WWE Wrestling incredibly silly (even if John Cena is kinda cute), but it was REALLY cool that they all took the time and
went over to Afghanistan
and to Walter Reed. They didn't just go perform, but went all over the country visiting with as many troops as they could. So, I have to give them props for that.