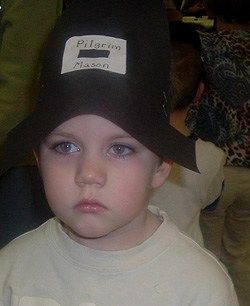 For a REALLY interesting Thanksgiving read...
go here
, scroll down and read where it begins -"The story of the Pilgrims begins in the early part of the seventeenth century. The Church of England under King James I was persecuting anyone and everyone who did not recognize its absolute civil and spiritual authority. Those who challenged ecclesiastic authority and those who believed strongly in freedom of worship were hunted down, imprisoned, and executed for their beliefs...."
Read the rest
.
Thanksgiving... a Christian holiday that is also tied to the (pre-Karl Marx) rejection of socialism? A holiday that was based on devout thanks to God in the tradition of the Bible and not on pilgrims and Indians eating turkey together? ...Cool stuff.
Have a wonderful holiday all... get off the computer and go enjoy your family (and your in-laws LOL)!
...And don't drive while experiencing food-a-coma.
...And don't sit on your bum and watch football while the women do all the work.
...And don't assume the person that has you over doesn't want help cleaning up.
...And don't get drunk and fess up to your "secret" blogs.
...And don't bring store bought desserts.
...And don't complain if the hostess decided that fresh yams would be better than candied sweet potatoes.
...And make sure to gush for at least a full minute over the little hand cut leaves made out of crust that adorn the sides of the pumpkin pie.
...and have fun!
Happy Turkey Day!!!