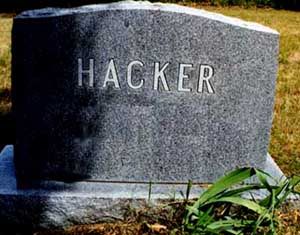 Grey Eagle
, a female soldier who is currently deployed with the 101st Airborne, has had her site hacked by anti-war/anti-military "pacifists". They managed to shut her site down, and she was able to get it back up and running, BUT when she attempts to update her Tribute section (to the fallen soldiers) she is redirected to a "Bush Lied" site.
Once again, I am struggling to understand this. Here is a woman that left her family behind to serve at the behest of her government and to great peril to herself. Have the anti-war crowd really resorted to crashing milblogs and harassing individual soldiers? Hello!? Seriously, isn't this the party of protests, sit ins, boycotts (or Gillette obviously) and Free speech no matter what? Yet they look to get Rush pulled from military radio, accost Protest Warrior members, hack milblogs and use RICO laws against anyone with a (R) that dares to hold a sign in protest...
If you feel so inclined...go throw some support
her way
. (She has posted a letter to the hackers at the top of her (very well designed) page called "Congratulations to those Who Oppose the Soldiers"). While you're there you can watch the "American Soldier" Toby Keith video...