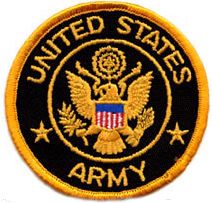 ...but I joined the ARMY TEAM. Hooah! ;)
Project Valour IT (the charity through Soldier's Angels that is raising money to buy voice-activated laptops for the wounded troops) is having a
Battle of the Armed Services
to see what branch will raise the most cash for these wounded warriors.
I know my jarhead friends will be disappointed, but here is my reasoning...
1) Free0352 has told me countless times that Marines are cheap ;)LOL
2) The Marine team already has the HEAVY HITTERS (Hugh Hewitt and Instapundit)
3) You know I love the Marines --but
92alpha
(aka my dad),
CB
,
91Ghost
,
Army Girl
and
RedLeg
are all Army.
Seriously though, imagine being hundreds of miles from family and friends and bedridden...and not able to communicate and pass the time. These soldiers, marines, airmen and sailors have had their world changed forever...and this is a small thing we can do to give them a bit of normality back in their everyday lives.
Project Valour IT
You can donate here (
Army Team box will remain in the sidebar under the Grotto
) or you can pick a branch, join a team and post this on your own site
here
.
The Castle
is onboard for the Army Team also.
Holly Aho
has a post about this
AND and great post under that about
what it's like to visit wounded troops
.
Also, FuzzyBearLioness (Project Valour IT visionary and creator) has
tons of info on her site
.
...So far the Navy team is winning and I know you guys aren't gonna let that happen! ;)
Go Army!