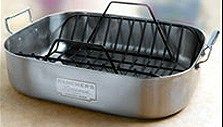 Ok, so last night I went to the local grocery store to wind down from the weekend, get a Starbucks Chai and get the boy's snacks for the week. I love Genuardi's on Sunday nights, it's so empty. I sped right through the check out line at the low, low bargain price of $42 and then the cashier got all excited as my receipt printed out.
"You Won, You won!"
"Cool...uh, what did I win?"
"The
Roasting pan
silly!"
"Yeah, but won't that like
officially
make me an adult?"
*blank stare*
"Never mind, thanks for the pan."
So, I won a Rancher's Reserve roasting pan. I normally use those throw away tin things. Don't you see...I'm not someone that wins things and I won something?
The
Deck of Bloggers voting
for the female bloggers ends at 23:00 tonight. Is last night's grocery store adventure indicative of a winning streak or did I blow my once every ten year win on a damn roasting pot!?
*clears throat* Not to sound like a broken record, but have you
voted
for the girl that thinks you're all so smart, really good looking and wonderful yet? (That would be me.)
LAST DAY TO VOTE
(*turns off broken record*)
UPDATE: Time was extended until 8am tomorrow morning --
Aaron has posted an update in the standings...
)