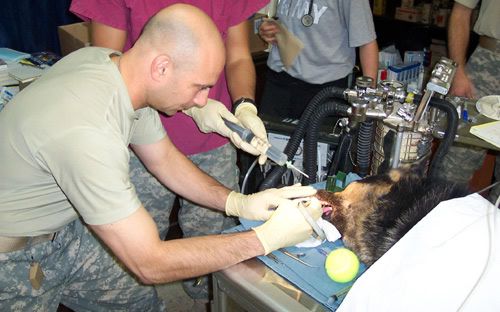 U.S. Army Doc Helps Military Dog Stay in the Fight
"CAMP LIBERTY, Iraq – One Task Force Baghdad physician recently had an unusual patient on his operating table.
Maj. Richard Padron, a surgeon with 10th Brigade Support Battalion, 1st Brigade Combat Team, 10th Mountain Division, found himself peering
intently
into the mouth of a dog named Blesky as he worked on the canine's teeth.
Blesky is a military working dog who provides
valuable
assistance to the brigade as units
conduct
combat operations in the Abu Ghraib area of Baghdad.
Soldiers from 1st BCT, 10th Mountain Division brought the 10-year-old German Shepherd to the surgeon in hopes the doctor could help
relieve
their four-legged friend's pain.
Blesky had been whimpering for a while and medics eventually narrowed the problem down to the dog's mouth.
"Blesky had already received a previous root canal, but he was in need of a new filling and it was causing him problems," Padron said.
Medics usually treat between eight and 10 military working dogs per year, but this was the
first
operation on any animal for Padron.
"It was very
interesting
operating on the dog," he said. "The anatomy of their mouth is very similar to a human's – except the angle of their teeth is different, and they are longer. I used just as much
care
on that fellow as I would use on my patients any other time."
The dog's handler was very concerned after Blesky was administered anesthesia for the operation, and he fretted the whole time over his best friend, said Pfc. Rafael Diaz, assistant medic on the scene.
"Blesky's caretaker was very concerned to see his best friend being operating on," said Diaz. "He stayed by his side the entire time and stroked his belly until it was over. The relief on his face was very heartfelt."
The procedure went
well
, and Blesky is now back out on the streets of Baghdad,
patrolling
on missions with the 1/10th Mountain Div. Soldiers.
"It felt very
rewarding
being able to help out Blesky," Padron said. "Just like any one of us, we didn't want to see him in pain. We wanted to get him back on the streets again so he can continue helping his
troops
."
-by Pfc. Jason Jordan 1/10th Mountain Division PAO (
CentCom News
)
...
US Army girls
...
One
,
Two
,
Three
,
Four
,
Five
,
Six