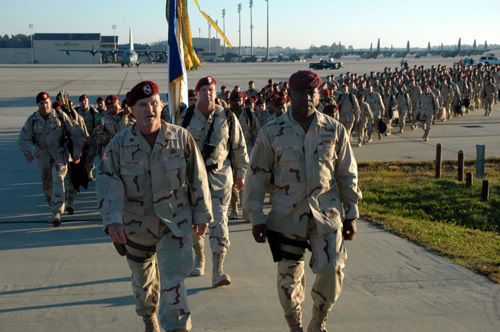 Holiday Cheers for Redeploying Command
FORT BRAGG, N.C. - Family and friends of
deployed
1st Corps Support Command Soldiers have received the best gift anyone can receive for the upcoming holidays; a chance to spend it with their
Soldiers
.
More than 200 Soldiers assigned to the 1st COSCOM were
welcomed
home during a redeployment ceremony at Pope Air Force Base's Green Ramp Oct. 31 at 7:30 a.m.
"It's a
great
day and opportunity to welcome this element that represented the
largest
command in Iraq," said Maj. Gen. Virgil L. Packett II, the acting commander for the XVIII Airborne Corps and Fort Bragg. "It is a great treat to have you all back here with your families."
Members of the 1st COSCOM were deployed for a year to Iraq and Kuwait in
support
of Operation Iraqi Freedom.
The 1st COSCOM continues to have more than 200 Soldier deployed in support of Operation Iraqi Freedom. Over the course of the remainder of the year, these Soldiers are scheduled to
redeploy
, while others have recently deployed or are scheduled to.
Editor's notes: 1st COSCOM Statistics
-
Supported
over 180 units
-Drove and
transported
over 3,000 vehicles
-Moved over 1,000 containers totaling over 785 tons of
supplies
-Transported over 134 million gallons of fuel, at an average of 1.1 million gallons per day; enough to fuel 57,000 vehicles
daily
-Driven or
flown
over 20,000 Soldiers.
-
Installed
over 4,000 up-armor kits
-Completed more than 13,000 combat logistics patrols
-Drove an average of 12,000 miles per month (equal to what the average American drives per year) and covered more than 29 million miles during combat logistics
patrols
-
Maintained
a 95% ready rate for its fleet of more than 6,000 up armored HMMWV
-Conducted over 5,000 security escort
missions
each month
-
Trained
over 2,000 Iraqi National Guard truck drivers
-Produced and
issued
over three million gallons of water
-Transported 190,000 cases of bottled water and over 200,000 meals to forward operating bases throughout Iraq daily.
-
Repaired
over 30,000 pieces of equipment and processed over 170,000
requests
for repair parts.
-By Capt. Sonise Lumbaca, 1st Corps Support Command Public Affairs (
CentCom
)
...
girls of the 82nd Airborne
...
One
,
Two
,
Three
,
Four
,
Five
,
Six