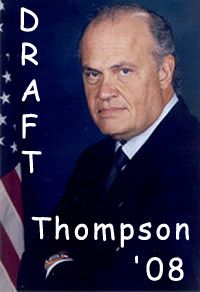 It hit me last night. We don't have to settle for a pro-choice candidate in '08. We don't need Condi to beat Hillary. Ms. Clinton may have widespread notoriety and the "woman factor" going for her, but American's love celebrities a helluva more than they like politicians...
I am sure I have told you all more than once that I am a HUGE Law & Order junkie. SVU is my favorite, but I will watch anything Dick Wolf puts out there. The man is a genius and once again he has been the trail-blazer. He hired retired Tennessee
Senator Fred Dalton Thompson
and now we should do the same.
Fred Thompson is extremely smart and incredibly articulate. He won his senatorial election (and re-election) in a landslide and the current Governor of TN is apparently scared to death that Thompson is going to run for his job. He wasn't a Senator long enough to acquire a
record
that would make him vulnerable in an election (like Kerry) and he didn't lose his seat -he retired. He would be a major asset to win all the non-politically inclined and the young...'cause, "Like Oh my Gawd, he's like, on Law & Order!"
The only (potential) downfall I see would be his personal life… Children from different women and a 35-year-old wife. I know I tentatively threw my hat in the ring for
Senator George Allen
a while back, but he's young and has plenty of time. Thompson would have a MUCH better chance against Hillary. I think I found our man!
(
Really funny Thompson article
*language may offend some*)