Blueberry-Pear Clafouti (Baked Pudding)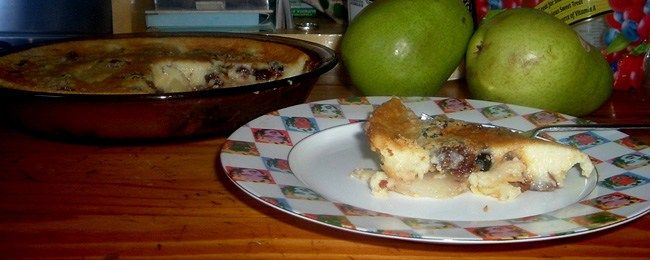 This will be the easiest "gourmet" dessert you will ever make. Clafouti is a traditional
French
Freedom fruit dessert. It's comparable to Flan or baked pudding. It's
really
good, and goes wonderfully with a big cup of Columbian coffee.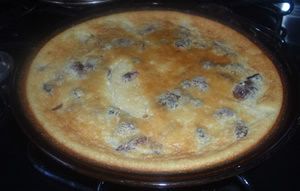 What You Need:
1/4 Flour
1/4 Sugar
Pinch of salt
3/4 Cup Heavy cream
3/4 Cup Whole (or 2%) Milk
2 Large Eggs
1 Tsp. Vanilla Extract
1/2 cup Blueberries
1 Large Anjou Pear
Unsalted Butter
What You Do:
(Preheat oven to 400°)
-Generously butter a 91/2" pie dish (sprinkle lightly with flour)
-If you are using dried fruit -soak it in boiled water until it plumps
-Cut up pear and fan it around the bottom of the pie dish (in a flower design)
-Combine Flour, sugar, salt, cream, milk, vanilla and eggs and beat for about a minute (or until mixture is smooth)
-Pour mixture over pears
-Spread blueberries (or cherries, cranberry, strawberries) over the batter
-Bake @ 400° for approx. 25 - 30 minutes (until clafouti is golden brown and
set
)
-Let stand for approx. 15 minutes.
-Best served warm, but is also great cold for breakfast
(This lasts about 5 minutes in my house)
*Leftover pears can be used to remove loose teeth...