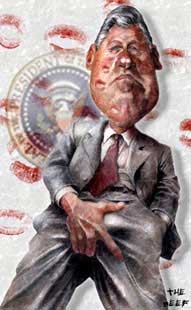 Well, that's what Esquire's December issue is going to proclaim. (*trying not to barf on my keyboard*)
The magazine (that will be on stands Thursday) says:
"Since leaving office, Clinton has been so active that his post-presidency amounts to "a third term" for the Democrat who held the White House from 1992 to 2000, the magazine said. He has tackled global issues from AIDS, poverty and global warming to the recovery from last December's Indian Ocean tsunami.
Esquire editor David Granger argued that Clinton was poised to become "something like a president of the world or at least a president of the world's non-governmental organizations."
But it will mean giving up a leadership role in the Democratic party or pushing the political career of his wife, Sen. Hillary Clinton, seen as a 2008 White House contender." (
source
)
Before anyone (AG!) bestows his "virtues" upon us...please consider that this man is an affront to all women (or
should
be). No self-respecting feminist should be able to utter his name without a shudder of disgust following it. He disgraced the office of President, he shamed his wife and his daughter and I 100% believe that he raped Juanita Broderick...not to mention his other dalliances.
Anyone that hasn't read
Bill & Hillary: The Marriage
by Christopher Andersen should do. Google Andersen, he's not a right-winger and he's a respected journalist. You will read this book in a day or two because it's fascinating...and you won't be able to put it down.
Sean Hannity interviewed the rape victim, Juanita Broderick, on October 25th, 2005. A Fox "watch group" posted about it
HERE
.
"Hannity told his audience that President Clinton and his wife orchestrated a frightening intimidation of Broderick and we should know how Hillary was involved.
"He is a rapist and she has stood by and enabled him. People need to know what she represents."
And a commenter on the site wrote this:
"He is a rapist and she stood by and enabled him. People need to know what she represents."
And Bush is a warmongering fool directly responsible for the unnecessary deaths of 2,000 American troops and tens of thousands of innocent Iraqis, and Hannity and FOX News enabled him. People need to know what Hannity and FOX News represents......Fair and balanced. I report, you decide.
They don't even care if this is true? They are SO blinded by their hate for Bush that they will forgive a rapist? Once again, I just don't get it.
...it's now OK to call Black conservatives the "N-word" and it's fine to excuse misogyny and heinous crimes and cover-ups...
Go read the book.