Well, we couldn't get anywhere near Peter Forsberg. The line to meet him was
unreal
-- which I am sure made him feel good (for those that don't know he was part of the mass trade the Flyers made to acquire Eric Lindros back in the day).
I did, however, get to stand next to Bobby Clark. My very first crush. Now a pretty old dude. I also got to meet Chris Therien (the crush of my 20's), Derian Hatcher (one of my new crushes) and I think Eric Desjardins had a crush on me! ;)
I was standing next to
Patrick Sharp
for almost 5 minutes before I realized it was him, looking so spiffy in his street clothes.
Here are some of the pics:
Michal Handzus (#26), Joni Pitkanen (#44), and Jon Sim (#11)
Eric Desjardins (#37) and Branko Radivojevic (#19)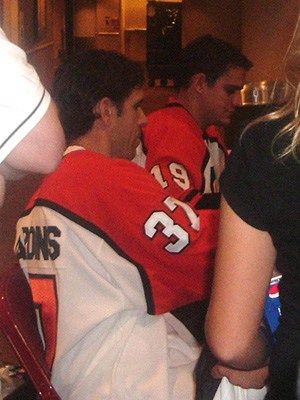 (Look at Desjardins eyes...)
The currently benched Derian Hatcher (#2)
#6 Chris Therien
Busta with Therien and Hatcher (these two are GIANTS!)
...and the pièce de résistance (at least for me):BOBBY CLARK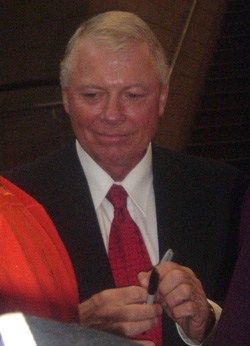 The fruits of our labor (Yes, my child decided that his signature belonged there also *sigh*):
(and Busta wanted you all to see him in front of the Eagles Stadium)
I realize some of you could care less about hockey --so just be happy for me that I not only got to meet my childhood idol, BUT ALSO got to meet the 2006 Stanley Cup winners! ;)