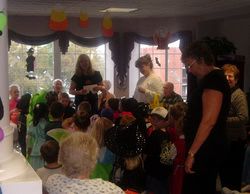 Yesterday Mason's pre-school class went to the "Old Age Home Around the Corner", in their Halloween costumes, to sing for the residents. Somehow I got roped into staying and helping out. The folks there all seemed to really enjoy it --and the kids were troopers...going to four different floors to sing their little songs.
Truthfully, it was depressing as hell. The kids were scared to death of these people, that resembled the skeletons in the decorations, and smiled at them with wide toothless grins as they coddled the tattered baby dolls in their laps. I didn't see any of the kids smile -even though I begged Mason to do so. The residents gave the kids candy and the children reluctantly handed them little Candy Corn people that they had made themselves.
As I stood there listening to "We'll scare you when we say BOO!" for the fourth time, I was looking around the room wondering about each of these people whose families didn't see fit to house them... They weren't just shriveled carcasses-they were people. He could have been a POW or a fighter pilot, and she the homecoming queen or a math prodigy. They each had a life and a story, but here they were. Left to spend their final days watching my kid in his Batman costume looking at them all with dread.
I never take naps. I'm just not a nap person, but I came home yesterday and crashed. I guess it was just too sad.
---------------------------------------------------------------------------------------------------------
There was no shortage of Superheroes on hand... (Mason is the Batman on the far right)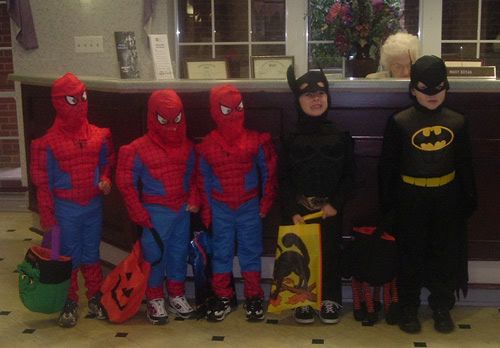 (Yes, that's my Mace--twice the size of all the kids in the class even though many are older than he is... Now you can see why we called him BamBam when he was a baby LOL)