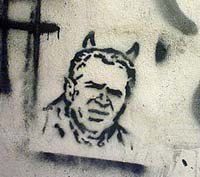 Yesterday I gave all those on the left 2 or 3 titillating moments of eye candy in my endorsement of any system that replaces the current disaster when it comes to health care. Now it's time to pay the piper...
As I was thinking how Katrina has effected the blogosphere, I couldn't help but notice that the mood is more somber than usual, but (IMO) not
near
as somber as after the election. After the election there was serious widespread blog-apathy, abandoned blogs, hourly rants and a general sense of deep mourning on the left-leaning blogs. Over the past week there have been a ton of Katrina posts, but the same sense of mourning isn't there --and blogging goes on. I couldn't help thinking that was odd...
So, I want HONEST responses to this question...
What has (or will do) more damage to this country: Bush in the White House or the hurricane. Which is more detrimental? In essence, if you had the power to remove only *one* of those occurrences...which would it be?
(...and don't cop out and say that the disaster wouldn't have been as bad if Bush hadn't been in the White House, 'cause that's BS...New Orleans's impending problems have been on the table and turned down by congress for over a decade...)