I hope everyone in the Philadelphia area that wants to help with the Katrina Relief effort can benefit this information.
After about an hour and a half of multiple calls, messages and bad hold music to the Mayor's office I finally found someone that knew where donations for the families that were brought to Philadelphia's Wanamaker Middle School were being accepted. Bureaucracy at it's finest... (I later found that I could have just called "Project Brotherly Love Hotline" at 215-665-2544).
There are two locations:
1) New Harvest Family Worship Center: 2218 W. Ontario Street 215-225-7141
2) The Salvation Army: 4555 Pechin Street (Roxborough) 215-483-3340
We opted for the Salvation Army, packed up the car with lots of goodies and took the drive to Roxborough yesterday morning. Across the street from the SA building there is a parking lot with a truck specifically for Katrina donation. We were greeted there by SA employee, William Crossan. He helps unload the bags and packs them into the trucks. He informed us that the truck he was working on was the sixth of that size to be filled thus far. Crossan told us that many of the donations were high quality items, but they were still having a problem with people donating stained, ripped, broken things. Rule of thumb -if you wouldn't wear it others won't want to either.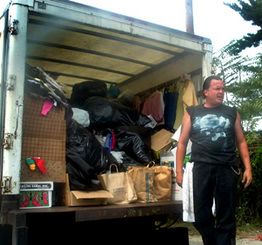 He gave us a list of guidelines and wanted me to highlight two in particular:
1) All items MUST be in good, useable condition. The Salvation Army doesn't do repairs.
2) No rips, stains, tears, pet hair, pet odors or missing parts. Please WASH items before they are dropped off.
Another SA employee informed me that they need EVERYTHING -and are even accepting food donations.
Here are things that they ARE NOT accepting:
Carpets (unless new)
Major appliances
A/C units, space heaters
Doors, windows, kitchen cabinets
MOST baby items (to spare lawsuits) basinets. layets, strollers, high chairs, car seats
Medical Equipment (except walkers/electric scooters)
Venetian blinds
Paper
Magazines, encyclopedias and text books
Yard swings, grill, lawnmowers
(If you have any questions about whether or not an item will be accepted you can call this number: 1-800-95-7825)
Some people have expressed concern about donating cash to various organizations. Here is your alternative! Spend the weekend gathering DVDs, clothes you received as gifts and never wore, luggage, sheets, etc. Or go buy backpacks and fill them with school supplies (If you go to the dollar store you can do 10 backpacks filled with supplies for about $120) Roxborough is an easy drive from anywhere in Philly --so pack up the car and go help out! Make sure to say hi to William --he's really working hard out there in the heat making sure those trucks get packed with the appropriate items!