Real & Easy Pot Pie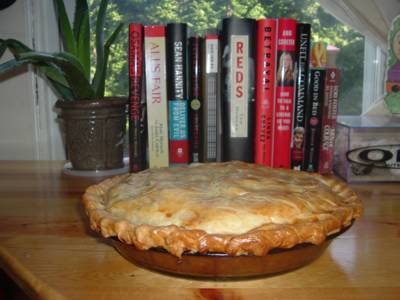 Ingredients:
Boneless breast of chicken (approx. 2 large breasts…Yeah, well there was no other way to say it!)
Pilsbury pie crusts (1 pkg.=2 crusts)
Broccoli (fresh or frozen)
Carrots (fresh or frozen)
Horseradish (2-3 tablespoons –depending on strength-may sound strange, but this is the key ingredient!)
Cream of Mushroom soup (1 can)
Light cream (enough to fill soup can)
Pie dish
1 egg yolk
Directions:
Pre-heat oven to 350 degrees
Boil chicken for approx. 15 minutes
Cut cooked chicken into cubes
Cut & steam carrots and broccoli (or not if you like the veggies a bit crunchy)
Combine Cream of Mushroom soup, 1 can of light cream, horseradish and heat in saucepan. Add chicken and vegetables. Mix well.
Spread (1) crust in the bottom of pie dish (un-greased). Pour mixture into crust. Use second crust to cover mixture and pinch together top and bottom crust.
Mix (1) egg yolk and (2) teaspoons of water and paint the top of pie crust with yolk mixture. Use a knife to make slices in the top of crust.
Cover pot-pie with tin foil and bake for 30 minutes. Remove foil and continue baking for 30 more minutes or until crust is golden brown.
Enjoy!


All recipes will be posted Friday, 11/5/04, at The Glittering Eye.


If you want to participate : Post & send a recipe link from your blog on Thursdays (to be posted Fridays) to: recipe.carnival@gmail.com